Mission #1 Feb 15, 1945
The target was a bridge just west of Lingiz on the Rhine. We sent up two boxes of eighteen planes totalling thirty six. I was supposed to do the pin point navagation to the i.p. it was also my duty to note any ground concentration, convoys or anything of military value. Being my first mission, the cities, towns and terrain were all greek to me. So as far as navagation was concerned I was totally useless. I was lost from the time we took off untill we landed. I didn't know what to expect, but I really did want to see some flak. After we were well in Germany I was begining to think it was a milk run.
We hit the I. P. and my wishes were granted. There it was, just like the movies. The sky was full of bursting flak. Only seven and a half minutes untill Bombs Away. We did our evasive action and I didnt think I really got scared untill I saw a B-26 explode about three thousand feet below us. I saw no chutes from it. That could have easily been us. About one minute to go and we leveled out for the bomb run. Each plane was carrying two two thousand pounders. I released my bombs and before closing doors, I looked at my instrument panel. One light was on showing I had a bomb still in the plane. With one stroke I salvied (?) and closed the doors. The light was still on, as we turned off the target, I saw Locke Wolf 190 go by us under our left wing. B-47's were all over the sky. I looked around to our left wing and saw seven burst just off our tip. I whispered a prayer. As quick as it started it was over. After we crossed the Siegfried Line I called the R. O. and told him to take a look in the bomb bays. I still had a bomb. I went back and screwed the fuses out so that nothing would happen if it did come out when we landed. We got back O. K. and I really hit the Cognac.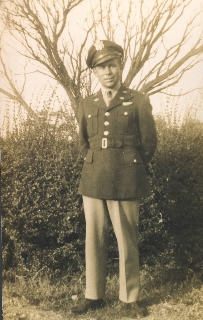 M. David Dial 1944